ULB23 - sustainable services in tourism for like-minded people
This year, for the 6th edition of the design for services workshop, we are tackling a timely subject: sustainability. In particular, for like-minded communities of travellers.
Our guest speakers include:
Christophe Bowyer (former ULB)

Michael Dibbern
A blended, hybrid learning experience, combining analogue & digital tools
Mirroring the design approach to actual projects, our workshops will blend a variety of active learning styles with individual and team activities. To design digital interaction, a lot of ethnographic user research is carried out to understand the context of use and the mental model prevalent at the time of engagement with the service.
The creative kit wallet will be given to each workshop participant. We still encourage all to bring their own set of markers and colours pens and pencils. (Scissors, tape and glue could prove useful too). Papers and templates for the methods used are shared as we encounter them, with slides and virtual whiteboards used mostly for the remote sessions.
Part 1: in person workshop over 2 days
To introduce a very hands-on approach to design thinking and doing for creating new or improving existing services in tourism, we will put our creative kit through its pace. Illustrate, map, compare and refine your ideas and challenge your assumptions.
Part 2: online remote collaboration & group presentations
Asynchronous collaboration using online tools like Google slides and Mural for comments on draft concepts. Teams calls to share progress and gain feedback. We conclude with a 15-20 min "pitch deck" presentation online.
Co-creating the design challenges definition
The
design for services creative workshop
formula has evolved tremendously over the years. Adapting to both internal feedback for more practical case studies and external forces like Covid and the adoption of remote working.
There will be a lot of flexibility in how we tackle such a wide range of subjects, concepts and methods. The main learning outcome is to become familiar with what it means to think, make and share like a designer. A truly positive mindset rather than a prescriptive rulebook.
Facilitators design challenge [reframing] session
Working from a first understanding of Michael's Vox Natura proposal, we have challenged our assumptions and reworked our approach to the primary investigation areas.
2 design challenges x 2 personas = 4 groups
To foster an in-depth exploration of each of our proposed personas we are assigning them to both challenges. Students will be grouped randomly into 4 teams.
A conversation on slow travel & sustainability with Cat Jones, Founder and CEO of Byway.travel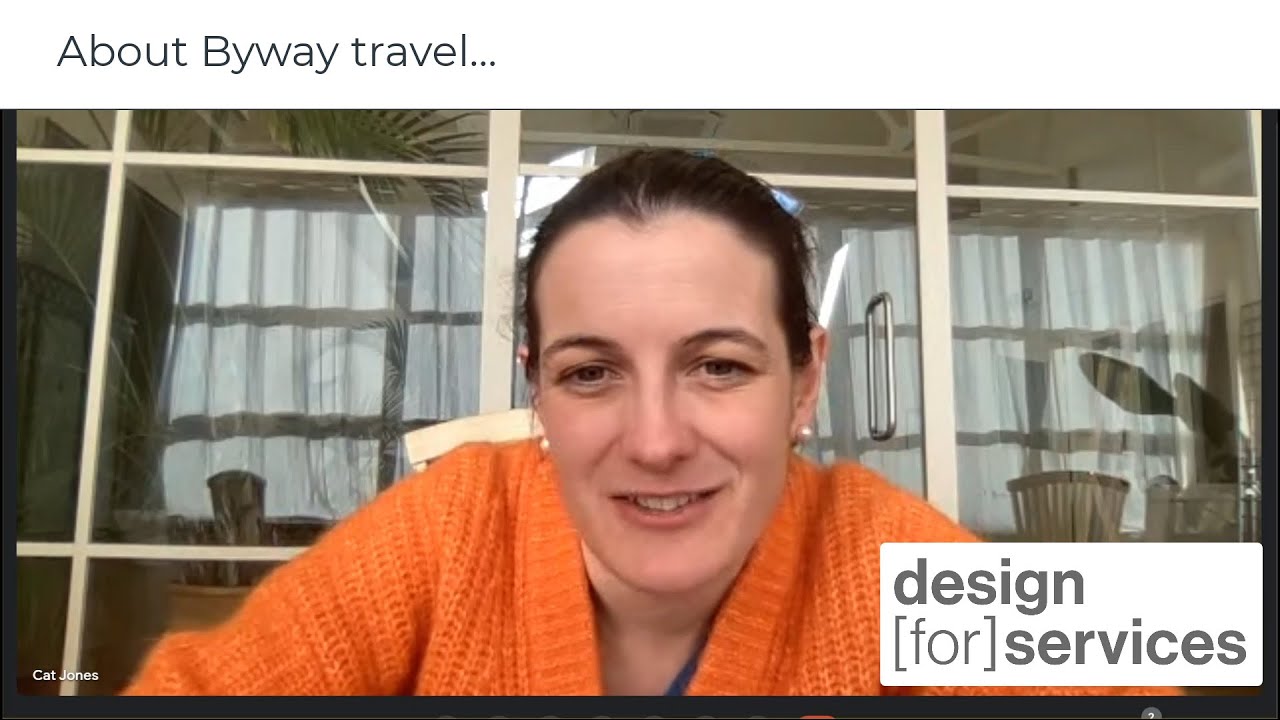 At Byway, our vision is for a world in which flight-free holidays are the norm, and a vibrant sustainable travel ecosystem flourishes away from the beaten path. Read more about
Sustainability and impact
The No-Jet Set: They've Given Up Flying to Save the Planet
NYtimes 20230206
With airplanes producing a large amount of climate-warming emissions, a growing number of travelers are signing pledges to keep their journeys on the ground. ... Byway, a British travel planning company founded during the Covid-19 lockdown, allows customers to plan flight-free itineraries across Europe. "We get a lot of American customers who will fly into Europe, but then we'll help them travel around for two weeks through various European countries using sleeper trains," said Cat Jones, founder and chief executive at Byway. The shift, she said, allows them to "travel slowly and soak up more experiences." Many of her clients still opt to fly across the Atlantic rather than travel by boat, she said, citing research that shows cruise ships can actually emit more carbon per passenger than jets do.